Michigan State Club Basketball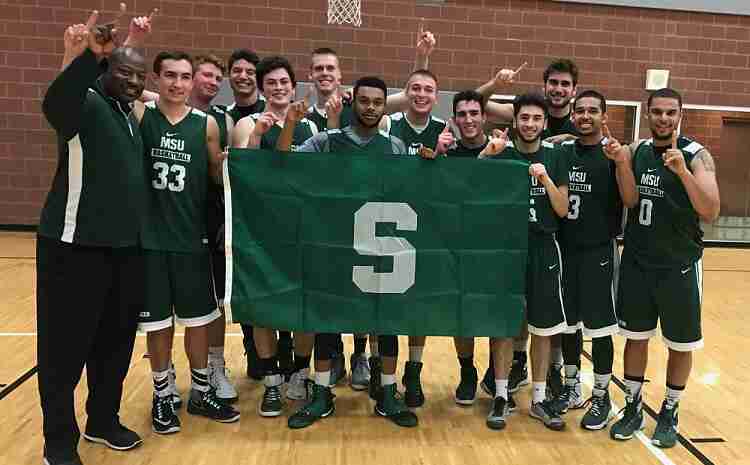 Conference Standings
Conference
Overall
Teams
W
L
T
%
W
L
T
%
Home
Away
PF
PA
Streak
Michigan State
17
1
0
0.944
20
2
0
0.909
9-2
11-0
1975
1514
W1
Purdue - GOLD
15
3
0
0.833
24
4
0
0.857
13-0
11-4
1806
1558
W3
Butler
8
7
0
0.533
8
7
0
0.533
3-6
5-1
1072
1126
W2
Central Michigan
8
10
0
0.444
8
10
0
0.444
5-4
3-6
1147
1269
W3
Michigan
7
11
0
0.389
9
11
0
0.450
6-3
3-8
1422
1390
L6
Bowling Green
5
13
0
0.278
5
13
0
0.278
1-8
4-5
1108
1236
L6
*Western Michigan
0
15
0
0.000
0
15
0
0.000
0-6
0-9
651
824
L15
Player of the Week
Robert Ray - #3 PG/PG
Michigan State
Robert started the season off strong with a 30 point season opener and also a 29 point game the last game of the series. Ending with 73 points total for the series against butler, while also being a facilitator at the point guard position. Robert also gave the team a nice balance between a scoring point guard while also being able to get his teammates involved.

Player of the Week
Paul Zwemmer - #24 C/PF
Michigan State
Paul had a solid first game at the center position with 14 points but a breakout second game with 20 points including going 2 for 2 from behind the arch. He was our go to player on offense when we needed a bucket. Butler had no answer for the big man and Butler players were heard referring to him as a "tank".

Team Roster
| # | Player | DOB | Yr/Elig | HT | WT | POS | Hometown | High School |
| --- | --- | --- | --- | --- | --- | --- | --- | --- |
| 33 | Bricker, Jeremy | 09/1997 | 1st / Fr | 6' 2" | 180 | SG / SF | Naperville, IL | Naperville Central |
| 15 | Burmeister, Andrew | 11/1994 | 4th / Sr | 6' 3" | 175 | SG / SF | Macomb, MI | Dakota |
| 10 | Dasuqi Dasuqi, Jacob | 11/1997 | 2nd / So | 6' 2" | 185 | PF / SF | Clarkston, MI | Clarkston |
| 32 | Erickson, Brandon | 02/1995 | 4th / Sr | 6' 2" | 180 | PF / SF | Williamston, MI | Williamston |
| 25 | Goldemberg Mr, Pedro | 04/1995 | 4th / Sr | 6' 5" | 225 | PF / SF | Sao Paulo, AL | Colegio Magno |
| 5 | Hourani, Anthony | 02/1997 | 2nd / So | 5' 9" | 150 | SG / PG | Coopersville, MI | Coopersville |
| 1 | Hunt, Stefon | 01/1994 | 6th / 5SR+ | 5' 11" | 150 | PG / SG | Detroit, MI | Renaissance |
| 0 | Morris, TJ | 03/1995 | 4th / Sr | 6' 1" | 185 | SF / PF | Benton Harbor, MI | Benton Harbor |
| 3 | Ray Jr., Robert | 01/1993 | 6th / 5SR+ | 5' 11" | 170 | PG / PG | Lansing, MI | Lansing Sexton |
| 12 | Sammons, Steven | 04/1996 | 3rd / Jr | 6' 6" | 195 | PF / C | Caledonia, MI | Caledonia |
| 22 | Veltema, Derek | 09/1993 | 5th / 5Sr | 5' 11" | 178 | PG / PG | Zeeland, MI | Zeeland East |
| 2 | Zugaro, Nicholas | 04/1996 | 3rd / Jr | 5' 11" | 175 | PG / SG | Novi, MI | Novi |
| 24 | Zwemmer, Paul | 05/1996 | 3rd / Jr | 6' 7" | 220 | C / PF | Pigeon, MI | Laker |
Team Stats
Basketball Stats
Player

G

FGM

3PM

FTM

FTA

FT%

REB

RPG

AST

APG

STL

SPG

TO

PTS

PPG

DD2

DD3

No items available